What We Do
Wenk Associates provides full-service site planning, urban design, and landscape architecture. Located at the foot of the Rocky Mountains in Denver, Colorado, we work with a broad range of communities and private, public, and institutional clients in cities across the U.S.
We are known for creative solutions that incorporate urban infrastructure and water facilities into designs that consider recreation, habitat preservation, sustainability, and aesthetics. We use elemental resources of earth, water, and air to create enduring places that connect people to natural processes.

Process
Our process is straightforward. We listen to our clients and to the land. We observe. We develop suitable possibilities — and only then do we begin to test ideas. We work with a broad range of collaborators including engineers, scientists, ecologists, and artists to develop simple and elegant design solutions that integrate social, technical, and design challenges, and add value to the site.

Our Roots
Wenk Associates was founded in 1982 by Bill Wenk, whose experience growing up on a small farm in southern Michigan, and his interest in the land, environmental issues, and art led him to landscape architecture. Bill has always seen things differently. From an inkling that storm drains could be better designed to enhance their surroundings, Bill launched his career-long exploration of how to use urban water infrastructure so that stormwater, and our urban rivers and streams, are a resource and part of people's daily lives. He maintains, "It's not a drain, it's a living system." (see video)
While no longer an owner, Bill continues to be involved on multiple projects for our firm, offering seasoned insight and guidance to our team.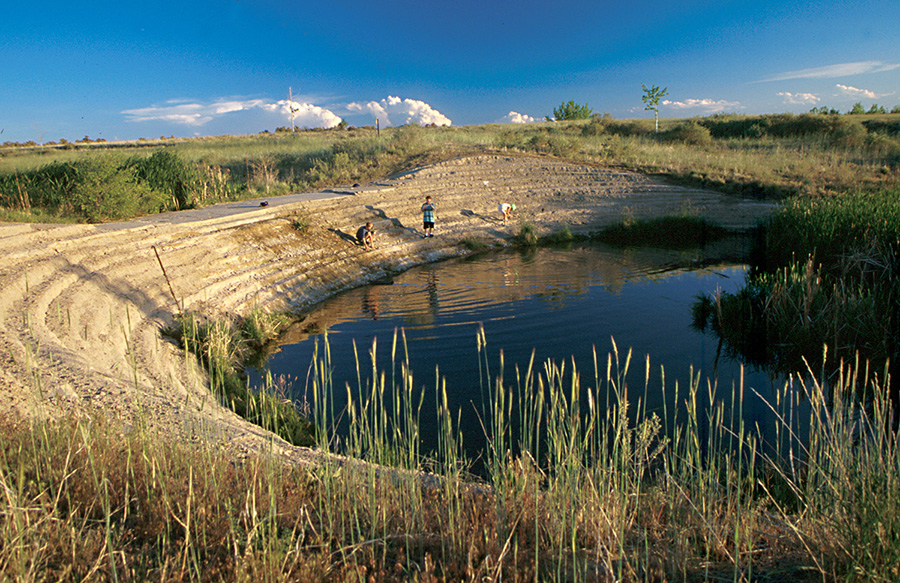 Shop Creek - Cherry Creek State Park - Aurora, Colorado (Completed 1989)



Wenk Next
In 2016, principals Nicole Horst and Greg Dorolek joined founding principal Bill Wenk as partners of Wenk Associates. In 2020, they took over full ownership. Nicole and Greg represent the next generation of leadership for the firm and are committed to sustaining the firm's dual mission of environmental stewardship and the creation of healthy, enduring urban environments.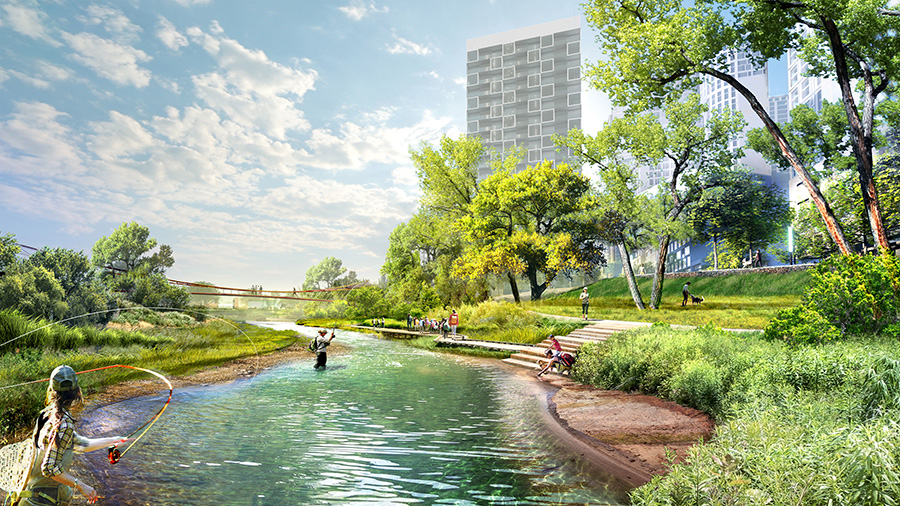 The River Mile - Denver, CO (Conceptual rendering 2018)
Wenk Associates maintains specialized practices in the following areas:
Landscape Architecture
Our projects range from simple, regionally appropriate gardens to complex efforts such as restoring natural landscape patterns and designing multi-faceted urban environments.
Urban Design
Incorporating both existing and proposed infrastructure, we knit multiple-use networks and open space corridors into a city to design vibrant urban spaces and streets that are community assets.
Recreation Planning and Design
We master plan and design parks, open spaces, greenways, and trail systems. Our capabilities include conceptual planning and design through construction administration for projects ranging from small neighborhood parks to large recreational facilities.
Landscape Restoration
Many of our designs involve the creation or revegetation of natural landscapes. We can analyze the effects of a project's planned activities on the natural environment and recommend options designed to minimize or mitigate ecological impacts.