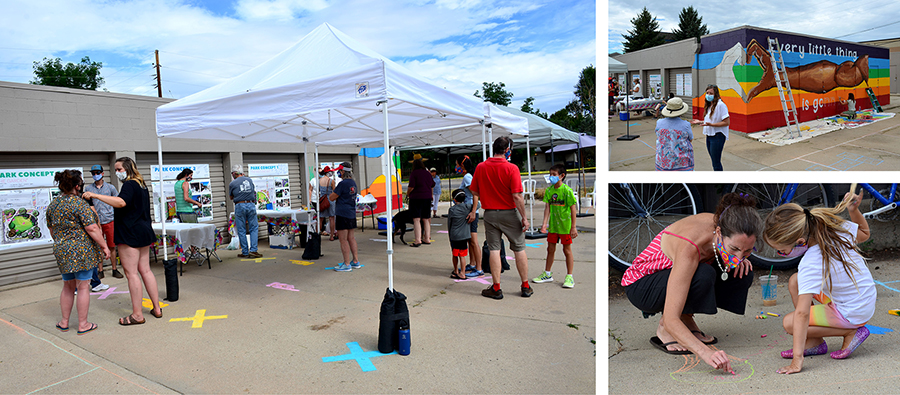 On Saturday, July 25th, Wenk Associates hosted our first pop-up community engagement event observing all current municipal health and safety guidance in response to COVID, and we are happy to report . . . it was a SUCCESS!
The event was held to promote a project Wenk is working on with the Lafayette Urban Renewal Authority (LURA) to create Lafayette's next great community space. The small park must serve the needs of the neighborhood and become a walkable and vibrant community gathering space while potentially serving as a gateway into Old Town. To support an online public engagement effort, the project team wanted to hear input and feedback on ideas for the space from the community IN-PERSON, which presented a challenge during COVID. So, we developed a strategy to make the event safe.
On arrival, we directed visitors to the welcome area that introduced the project and listed the procedures visitors must follow to participate, including the wearing of face coverings at all times while on-site. To maintain six-foot distancing protocols and to spread people throughout the site safely, we marked the maneuvering and spacing patterns between the four information stations on the ground using temporary chalk paint and stencils.
To activate the event, children were given their own personal box of sidewalk chalk and encouraged to draw their ideas for the park within a chalked-out grid of six-foot-square drawing areas. A local artist, Tif Choate, painted her community mural "Don't Worry" on the street-side of the existing building throughout the morning which served as a colorful advertisement for the event and the future park space. Finally, to thank visitors for their time, input, and patience, we offered free ice cream coupons from the local ice cream shop, Eats & Sweets, as they departed. Who doesn't love free ice cream!